Lead Management
---
Follow up like a boss using our real estate lead management system! Wise Agent's Lead Management System has been turning many heads and getting a lot of attention as more real estate agents and offices realize how powerful of a feature it has become.
At the same time, it remains very simple to set up and easy to use. While many real estate lead management systems are set up to launch auto-replies and drip campaigns, most are very limited in choices.
Wise Agent Lead Management System is customizable and makes it possible to split or A/B test. You are also able to set up different rules for different lead sources. Each lead from a certain lead source can launch a unique real estate drip campaign designed specifically for that source. The new leads can automatically be added to the daily Call List, which is another hit feature we will discuss here.
You are also able to pre-categorize all of your incoming leads. For instance, if you are targeting buyers in a certain ad, all the leads produced from that ad can automatically be put under the category of "buyers". As soon as a new real estate lead comes in, you can have it set to fire off an immediate email that uses the lead's name and source in the email.
You can even include a Youtube video that was made specifically for the lead source! If you like using video, you will be happy to know we have also built in a robust integration with BombBomb, allowing you to send immediate BombBomb videos to your new leads.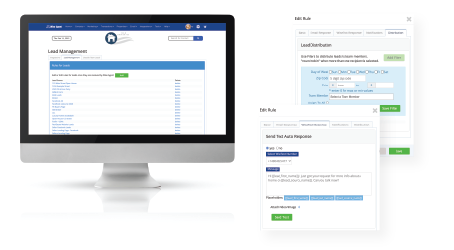 Lead Management Software Made Simple
Growing and thriving as an agent or office depends on capturing and following through on those leads. Adding simple yet powerful real estate lead management software to your toolset is an awesome way to move those leads through the pipeline.
Emails and phone calls are still a must in today's lead conversion process, but the number one tactic Wise Agent members have been using to convert more leads is the implementation of our Wise Text feature.Each new lead can receive a personalized SMS text message that uses the lead name and source name in the text message. Wise Text is an extremely powerful real estate marketing and conversion tool as we are currently seeing a 100% open rate and many replies almost immediately.
The Wise Agent Lead Management System can also easily be set up to notify you and as many of your team members as needed via sms text and/or email once that new lead comes in. Brokers and team leaders who are generating large amounts of leads love Wise Agent's simple lead distribution system that allows the lead to be distributed several, or a combination of, ways - day of the week, zip code, price range, round-robin, or even via a "claim a lead" option where the first team member in can claim any unclaimed leads.
Wise Agent Lead Management software also includes several different lead reports that can be generated to show what sources leads are coming from, status and rank of leads, and how many leads were assigned to team members.
When discussing lead management for Realtors, the next question that usually comes up is: "where are real estate leads for Realtors coming from and how do I get those leads into my CRM?". Today there are over a hundred different companies in the real estate industry that focus on generating leads and selling those leads to Realtors. Internet leads are coming from large-brand, well-known companies like Realtor.com and Zillow, as well as companies like Listings to Leads or Lending Tree, and many, many, others.
Another effective and popular method for agents is to place ads on social media. This generates a large amounts of leads, and Wise Agent captures them seamlessly.More traditional leads coming from walk-in's, open houses, and floor calls can also be organized easily. The important thing to know is that it really doesn't matter where your leads are coming from, Wise Agent has a way of getting all leads to automatically show up in your CRM. There are a few different methods used, from following an API to parsing the leads in, and the Wise Agent customer support team will be standing by to help get your leads set up to flow in seamlessly.
Wise Agent's AI Bot
---
Wise Agent's Artificial Intelligence (AI) Bot acts as an assistant to real estate professionals, saving them time when qualifying and following up with online leads. The AI Bot uses industry-proven real estate scripts to engage and qualify new real estate leads and nurture existing leads.
Once leads are added to Wise Agent, the AI Bot immediately follows up with new leads and has meaningful conversations to discern whether they are looking to buy, sell, secure a loan, or rent
Wise Agent's AI Bot delivers intelligent real estate lead conversion with a human touch through an engaging and respectful conversation. The AI Bot can be given any name, making them feel like a true part of any real estate team. The AI assistant is anything but robotic, adding in human elements such as correcting typos and using emojis. Wise Agent's AI Bot is flexible with leads that are "just-looking" while handling objections and following up with leads for over a year.
Recent Leads
---
Regardless of whether your real estate leads are coming from landing pages you created on Wise Agent or any other lead source, the most recent leads will always show on your Wise Agent home page to alert you as soon as you login.
If you are on a team using the claim leads method of lead distribution, you will also see a green "Claim Leads" button in this box that can be clicked to show all the unclaimed leads.
This is just another way that Wise Agent's real estate lead management program will help to keep your leads from slipping through the cracks.