Real Estate Flyers
---
When you think of real estate agent marketing tools, one of the originals and still most used is real estate flyers. The real estate agent flyer template tool makes it very easy to create beautiful real estate flyers for your listings. Choose the style of flyer you want and walk through the step- by-step guide to create your own flyers.
Email
---
Wise Agent is a CRM with Email Automation made easy! Wise Agent has been referred to as the best real estate marketing CRM often in reviews, and a major part of that is our powerful email system that allows you to send personalized mass email to your database or a scheduled email to an individual contact. There are many real estate email marketing templates for real estate agents available to help spice up your emails and give you marketing ideas when you know you need to send something but can't think of what to send.
Additionally, we have included an integration with YouTube to make it easy for you to send your videos by email. Wise Agent also has an API integration with both MailChimp and Constant Contact if you prefer to send mass mail through either of their platforms.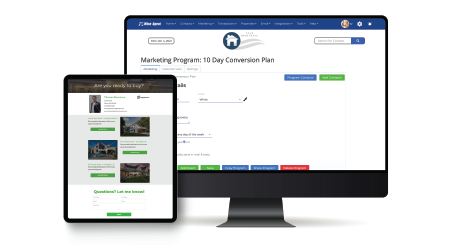 Real Estate Marketing Tools that Set You Apart
Marketing yourself or your real estate business is an important part of succeeding in the real estate industry. That's why we've integrated several essential marketing tools right into our real estate CRM! Organize and market to your leads and clients all in one place.
Drip Campaigns
---
Wise Agent includes a very intelligent lead-nurturing real estate drip marketing automation system. Once again, Wise Agent makes it easy to start as we offer many pre-written real estate email marketing stock templates that can be customized within minutes. If you are in need of real estate drip campaign ideas, just take a look through our stock programs. You may choose the number of events and decide how many days in between each event. Both short term or long term real estate drip campaigns can be created and ready to go in minutes.
The idea is to have different real estate email drip campaigns set up and ready to go so that your content is reaching the right audience. Then, anytime you meet someone new or get a new lead they can easily be added to the appropriate drip marketing program that will help keep you on their mind on a consistent basis. Wise Agent real estate email drip campaigns are also built into the Lead Management system so that new leads can automatically be added to your drip marketing programs based on the source of each lead. Drip marketing campaign reports are also available.
Real Estate Newsletters
---
Many Wise Agent members have been quoted saying this one feature is worth the price of the product. Each month Wise Agent will create a new, editable, two page newsletter in both English and Spanish that is fully branded with agent image and logo, ready to go.
In less than a minute the newsletter can be emailed to your entire client database. You also have the option of using the real estate newsletter templates to create your own custom newsletters. You can edit any part of the monthly stock newsletters or add pages to them. Many Wise Agent members add their current listings to the monthly real estate email newsletters, too. Wise Agent's real estate marketing newsletters are also printable if needed.
Email Signature
---
Wise Agent has a built in email signature generator that makes it easy for you to use your real estate signature in your email. There are many powerful real estate email signature templates available to choose from, or you can copy and paste your personal email signature from another system. You can also easily make one from scratch. Another bonus is the fact that you can create and save as many real estate email signatures as needed, for yourself or your team members.
Wise SMS Text
---
Adding the ability to send text messages though the CRM has been a game-changer for many Realtors using Wise Agent. Text messages currently boast an almost 100% open rate, making text messaging a very valuable communication tool.
With Wise Agent you can now set up an auto response text that will send an automated text message response immediately to all new real estate leads as they come in. All text messages can include video as well! Use Wise Text for mass text messaging if you need to send a bulk text message blast to a group.
Content Library
---
Included with each Wise Agent account is a real estate content library to use in all situations you encounter. There is an extensive list of stock real estate content that can be edited and saved as your own. This content can be sent in bulk to your database but personalized to each individual contact by using placeholders that will auto-fill their names and addresses.
For physical mail, the letter manager includes an address label tool, or you have the option of printing the address right on the envelope. Your content can also be sent as an email, text message, or included in drip campaigns and auto-responders. You'll find your content library on any page where you can contact a client, making it simple to communicate thoughtfully and often with your database.
Post Cards
---
Our integrated postcard feature enables you to send real estate postcards to your contacts right from your CRM. No more exporting files to another platform or entering duplicate information. It's as easy as a few clicks to get stylish, personalized postcards out to your clients!
Our Xpressdocs integration offers you modern, industry-proven real estate postcard templates that are easy to customize to your business' brand. You can complete each card with your agent photo, contact info, and a short bio about your business and industry experience. We offer a library of templates including Just Sold, Just Listed, or upload your own design.
Digital Ads
---
Wise Agent's Digital Ads feature gives members the ability to easily generate their own demand with powerful, streamlined marketing programs on Facebook and Google right from within their CRM.
Real Estate Agents using Wise Agent as their CRM can create and manage ad campaigns such as just listed, just sold, home valuation, and agent recruiting. The campaigns are built with the right data and audiences, and can be launched with just a few clicks - saving Agents time and making their marketing budgets more impactful.