Transaction Management System
---
Wise Agent's real estate transaction management software is another major piece of the puzzle that we have included in this all-in-one CRM system for Realtors. Using the lead management system and our other business tools will lead to growth in your business, therefore increasing the number of transactions that need to be organized and managed.
Wise Agent makes it simple to customize a buyer or listing template, which can be turned into a real estate transaction management checklist for each new buyer or seller. Every transaction will be associated with a well thought out checklist that guides you through the entire transaction and records every action, from the very beginning to a successful closing. Realtors love that our real estate transaction management checklists show all the information on one single page.
Simply scroll down to see the critical date list, each task that needs to be completed with due dates, information for every person or company that has a role in the transaction, unlimited document storage, and date and time stamped notes.
Wise Agent is integrated with DocuSign to easily save digitally signed real estate forms. The Transaction Hot List will appear on the homepage with fast, one-click access to each current transaction.
Our real estate transaction management system is also very team friendly, helping brokers and team leaders monitor the progress of each sale.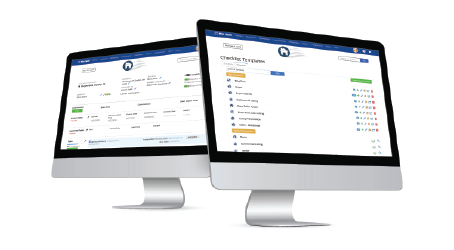 Have You Tried Wise Agent's Transaction Management System
With our Checklist feature, you can easily stay organized with all your buyer and seller transactions or any other process you repeat regularly in your business.
Document Storage
---
Your Unlimited Cloud Solution for easier and safer documents. A desktop is no place for important client documents. Wise Agent's unlimited document storage gives you the freedom and flexibility to store your files alongside your client's transactions or contact records; with access to your documents from anywhere…it's easy breezy.
Property List
---
In Wise Agent there is also a convenient real estate property list where you can keep all the details of any properties you work on. You can store all the information about a property as well as keep detailed property notes. It also allows you to create property categories to help you stay organized.
There is also a real estate slideshow maker on the property page that will create a slideshow that is easy to use and link to as soon as you add multiple property pictures. Wise Agent has built an integrated partnership with immoviewer for 360 virtual reality tours in 3D that will be found on the property page as well.
Lockbox List
---
Do you need a place to organize and track your real estate lockboxes? Wise Agent includes a simple real estate lockbox list that makes it easy to track every serial number, shackle code, and location of each lockbox you own.
Commission Report
---
When running a Real Estate Business, it's important to be able to see that you are achieving your sales goals. You need to know what commissions have closed, those that are pending, and even those that have fallen through. Wise Agent CRM's Commission Report is just what you have been looking for! Now you can track all your sales and commissions right from within the best CRM for real estate professionals. The Commission Report is an easy way to get reports on your sales, or those of your team, for the month, quarter, or year. It will also give you a snapshot of the status of current sales, from pending to complete.